The Jungfrau ( 4158m ) in the Bernese Oberlands The Jungfrau is the westernmost and highest of the famous Eiger, Mönch, Jungfrau trilogy.

It is a high altitude alpine route with an easy approach by train.

Jungfrau is a great snowy mountain and a centre for tourism in the Bernese Oberland.

Its spectacular North Face towers nearly 10,000 feet from the valley below.

Jungfrau and its neighbouring peak Mönch ( 4099m ) are separated by a col at Jungfraujoch

that holds an observatory, a railway station and a hotel.

At 3478 meters this is the highest point in Europe that is reachable by railway

and from which the summit of the Jungfrau is a short, icy climb up the northeast ridge.
Jungfrau Photo Gallery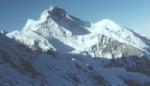 << Back : Bernese Oberland Index : Next >>
Swiss Alps Index : Zermatt & Saas Fe Region :: Alps 4000
---
---
Site Index | Worldwide Mountaineering | Adventure Travel
---
---
---
---
---
Tradedoubler Ads:
---
Over 14,000 extraordinary vacations - FREE Brochures:-
Austria | Bulgaria | Croatia | Finland | Denmark | France | Greece | Ireland | Italy | Norway | Portugal
Scotland | Serbia | Slovenia | Spain | Sweden | Switzerland | United Kingdom
---
Hiking and Walking Tours - FREE Brochure
Climbing and Mountaineering Tours - FREE Brochure
---
---
---
---
---
---
---
---
---
---
---
---
---
---
Google Analytics

extremetracking
---

---
extremetracking
---
Sitelock caingram.com



Sitelock
Sitelock caingram.info



Sitelock
---

VigLink

---
---
VigLink