Nerja

is a tourist town on the Costa del Sol in the province of Málaga,

in

Andalucía

, on the southern,

Mediterranean

coast of Spain.

It lies about 50km east of the city of Málaga, within 1 hour 15 minutes drive of the Alhambra in the city of Granada, and a further 30 minutes to Solynieve in the Sierra Nevada Mountains.

Nerja

on the

Costa del Sol







Map of the Costa del Sol in Southern Spain

The Costa del Sol ( "

Coast of the Sun

" ) is the region in Andalusia

comprising the coastal towns and communities

along the Mediterranean coastline

of Málaga province.



Andorra & Pyrenees :: Picos de Europa :: Algarve :: Morocco & High Atlas
---
---
Site Index :: Worldwide Mountaineering :: Adventure Travel
---
---
---


---
Over 14,000 extraordinary vacations - FREE Brochures:-
---
---
ebookers - Car Hire | ebookers - Hotels | ebookers - Flights
---
Google Custom Search Box

Custom Search
Google Search Box
---
---
---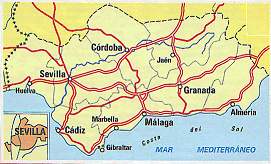 ---
---
---
---
---
---
---
---
---
---
---
Google Analytics

extremetracking
---

---
extremetracking
---
Sitelock caingram.com



Sitelock
Sitelock caingram.info



Sitelock
---

VigLink

---
---
VigLink