Sunset

on

River Ebro

in

NE Spain








Map of Ebro River Valley in the NE of Spain



The

Ebro

is the most voluminous river in

Spain

.

Its source is in Fontibre ( Cantabria ).

It flows through cities such as Miranda de Ebro, Logroņo, Zaragoza, Flix, Tortosa, and Amposta

before discharging in a delta on the Mediterranean Sea in the province of Tarragona.






Andorra & Pyrenees :: Northern Spain :: Southern Spain :: Algarve :: Morocco & High Atlas
---
---
Site Index :: Worldwide Mountaineering :: Adventure Travel
---
---
---


---
---
Over 14,000 extraordinary vacations - FREE Brochures:-
---
---
ebookers - Car Hire | ebookers - Hotels | ebookers - Flights

---
Google Custom Search Box

Custom Search


Google Search Box
---
---
---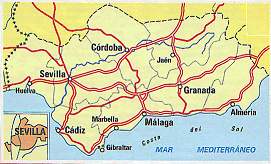 ---
---
---
---
---
---
---
---
---
---
---
Google Analytics

extremetracking
---

---
extremetracking
---
Sitelock caingram.com





Sitelock


Sitelock caingram.info



Sitelock
---

VigLink

---
---
VigLink