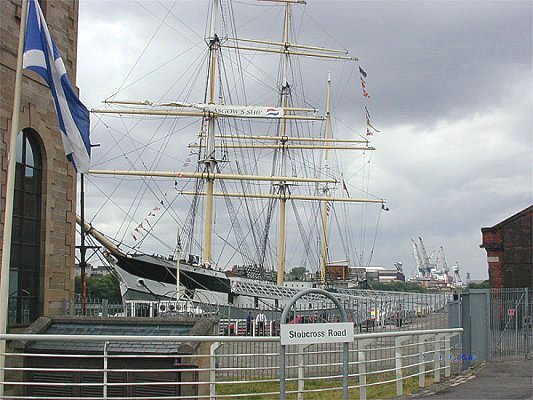 The Glenlee is a three masted barque, launched in 1896.
She is now a museum ship at Yorkhill Quay, Glasgow,
known as "The Tall Ship", at Glasgow Harbour.
Glenlee was built by A. Rodger & Company of Port Glasgow
and has a length 245 feet, beam of 37.5 feet and depth of 22.5 feet.
After a career as a bulk cargo carrier, Glenlee was renamed as Galatea,
and used as a training ship in Spain.
In 1990 she was rescued and bought by the Clyde Maritime Trust.
She was returned to Glasgow from Seville in 1993
and a process of restoration began.
Glenlee is recognised as part of the Core Collection
of historic vessels in the UK
by the National Historic Ships Committee.
As a museum ship and tourist attraction,
the Glenlee offers educational programs,
venues for exhibitions and the West End Festival
and volunteering opportunities.