---
---
---
Climb aboard and bag a Munro
---
Carrying a heavy backpack may yield a sense of achievement and satisfaction but it is certainly not a pleasure and can totally destroy one's appreciation of even the most magnificent of mountain scenery. While it may be a necessary hardship on multi-day Alpine ascents and in reaching remote objectives such as Kebnekaise in arctic Sweden or Djebel Toubkal in the High Atlas, such purgatory is best avoided in a round of the Scottish Munros where the inevitable bog trots are bad enough without the added encumbrance of a 20Kg load of overnight camping gear - other options exist.
Walkers doing the West Highland Way can avail themselves of the "Travel-Lite" rucksac-ferrying service provided by Gilbert and Marion McVean from the trailhead in Milngavie, a local substitute for a Himalayan porter system.
Bicycles and skis ( the "magic slippers" of Hamish Brown, the ultimate Munroist with his umpteen rounds ) enable day trips to many of the far flung tops in the vast sprawl of the Cairngorms, while on one summer tour I used a canoe in bagging 11 of the most inaccessible of Scotland's peaks, the load carrying potential of canoes having been discovered on an island-hopping course on a choppy Loch Lomond.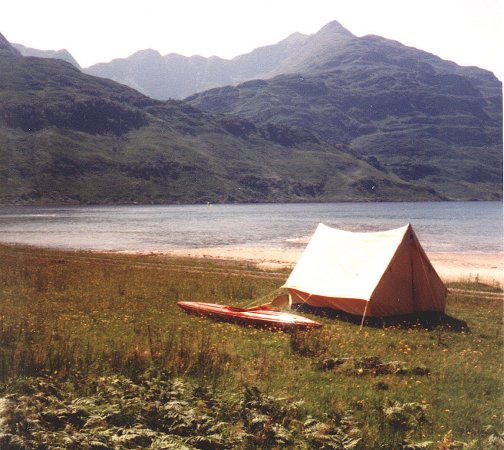 Ladhar Bheinn from Barrisdale Bay on Loch Hourn
Ladhar Bheinn is the highest mountain in the Knoydart region
It is the most westerly Munro on the Scottish mainland.
---
My first water-borne assault on a Munro was a day trip down a tranquil Loch Treig beneath rugged, forested hillsides to reach the isolated Beinn Na Lap embedded deep within a great mountain wilderness and a long, long walk from all possible roadheads ( but in striking distance of Corrour Railway Station ).
A second, more ambitious foray, was a three day expedition to the secluded western end of picturesque Loch Monar.
Several trips were necessary to ferry all my camping and climbing gear from the car to the canoe - a full 30Kg load - maybe possible for a Nepalese porter but not for me.
Only an attack by a voracious swarm of midges then spoilt a leisurely paddle under a warm, summer sun reflecting brightly from a ripple-free surface on a perfect, windless day.
Near the head of the loch I pitched my tent in splendid, silent solitude on a grassy terrace ensconced beneath a great cirque of rocky buttresses and towering ridges.




Sgurr Choinnich & Sgurr A'Chaorachain

across Loch Monar





On successive days two craggy and complex, high-level traverses on narrow, pinnacled aretes and over broad, flat plateau claimed the six summits of Lurg Mhor, Bidean A' Choire Sheasgaich, Sgurr Choinnich, Sgurr A Chaorachain, Creag Toll A' Choin and Maoile Lunndaidh - a superb cluster of hills.
---
Some days later, I re-launched my canoe at the small village of Kinloch Hourn in the Knoydart peninsula. Crystal-clear waters revealed a multitude of fish darting among the rocks deep on the sandy bottom of the narrow inlet.
Beaching the canoe in a small bay I clambered to a rocky promontory to admire the surrounding grandeur and check my progress. Returning only a few minutes later, I was shocked to see the canoe drifting several yards out from the beach. I had failed to appreciate I was on a sea-loch and the in-coming tide had re-floated my canoe. In a panic, I splashed out and only just managed to retrieve it.
Rounding the headland into Barrisdale Bay a grassy, flowering meadow, above a wide sandy beach provided an idyllic campsite with a fine outlook across Loch Hourn to the long ridge and conical summit of Ladhar Bheinn.
Two challenging and strenuous days negotiating the rough bounds of Knoydart with its great cliffs and corries and three mighty Munros - Luinne Bheinn, Meall Buidhe, Ladhar Bheinn - climaxed with one of the glorious, orange-red sunsets for which the west coast of Scotland is justly renowned.
---
A final sortie on Loch Mullardoch to collect the awkwardly located outliers of Bheinn Fhionnlaidh and Cread A' Choire Aird was in less clement conditions. But I doubt if any Munroist, even the redoubtable Hamish Brown, has obtained a good view from the summit of every Munro.
I had major problems in fording the Abhainn a' Choilich, in heavy spate after an all-day deluge ( fording burns in spate is one of the potentially fatal hazards of hillwalking in the Scottish Highlands ) and a somewhat nervewracking, but exhilarating, return down the loch propelled on the crest of white horses by a powerful westerly wind - far faster and infinitely preferable to a long, exhausting slog through the heather and peat bogs handicapped by a heavy backpack.
My canoe trips made a significant and enjoyable contribution to completing the Munros - an activity that takes one off the beaten track and into the wildest and remotest corners of the Scottish Highlands - and far from the madding crowd - on this tour not another person was met on any of the hills.
( The Commentator, Glasgow HERALD, Saturday 20th March 1999 )
---
References:
---
---
---
---
---
---
---




Tradedoubler Ads:
---
Over 14,000 extraordinary vacations - FREE Brochures:-
Austria | Bulgaria | Croatia | Finland | Denmark | France | Greece | Ireland | Italy | Norway | Portugal
Scotland | Serbia | Slovenia | Spain | Sweden | Switzerland | United Kingdom
---
Hiking and Walking Tours - FREE Brochure
---
---
---
---
---
---
---
---
---
---
---
---
---
---
---
---
---
---
---
Google Analytics

extremetracking
---

---
extremetracking
---
Sitelock caingram.com



Sitelock
Sitelock caingram.info



Sitelock
---

VigLink

---
---
VigLink